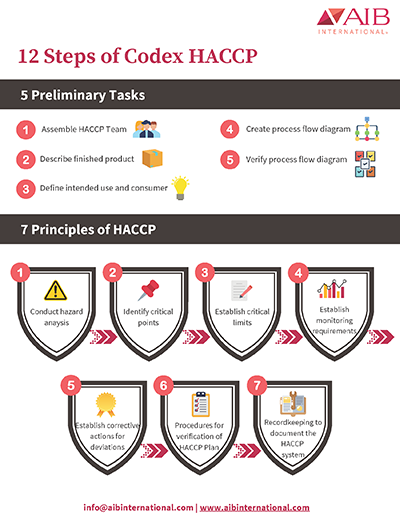 HACCP is a management system used in countries around the world as a preventive approach to help identify food safety-related issues involving not only raw materials, but also those related to equipment and processing. Known as a "farm to fork" strategy, it helps manufacturers establish control over the entire production process to ensure food safety.
Watch Webinar Download Presentation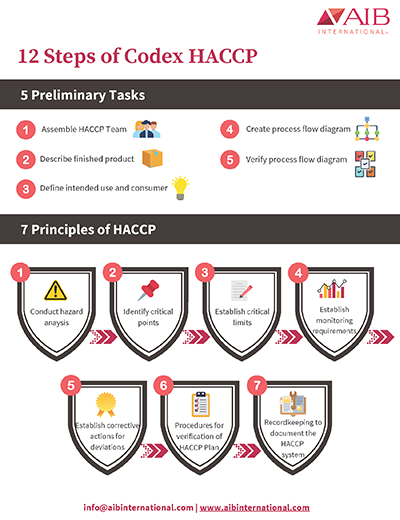 The World Health Organization's definition of HACCP is straightforward. To ensure food safety, operations need to have a system in place that identifies, evaluates, and controls hazards that are significant. In brief, the goal is to proactively prevent food safety issues before they occur. Not only is having a formalized HACCP plan the right thing to do, but it's also a regulatory requirement for juice (FDA), seafood (FDA), and meat and poultry (USDA) plants in the U.S., as well as for some countries outside the U.S. Also important, it is a fundamental requirement for all GFSI schemes.
As you may know, there are 12 Steps of HACCP to help ensure food safety, starting with five Preliminary Tasks, followed by the seven Principles of HACCP. If you need a refresher, we've compiled the "12 Steps of Codex HACCP" that you can download here.
What happens once you've formalized your HACCP plan according to these 12 steps, but find yourself still needing support? Our food safety experts are here to help you develop and use the tools needed for your food safety programs in support of HACCP, which can be found in 21 CFR 117 Subpart B. This includes the various good manufacturing practices (GMPs) requirements associated with HACCP, such as personnel, plant and grounds, sanitary operations, and many others. By effectively using these tools, your operation can produce safe food.
If you're interested in learning more, don't miss our upcoming virtual HACCP Workshop. Instructor-led live, online and with convenient half-day sessions, join us on Tuesday April 13, 20, and 27th and earn 1.3 CEUs. Want more information? Email us at info@aibinternational.com.