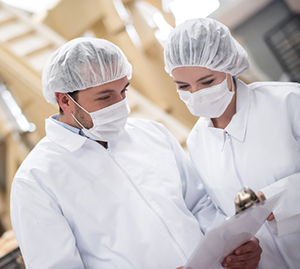 On average, humans consume approximately 79,000 meals in a lifetime. That's 79,000 times each of us expects food to be safe for consumption. As a partner to the global food and beverage food supply chain, we are committed to helping manufacturers, processors, packaging suppliers, storage/distribution, and others in ensuring that each of those meals can be consumed safely.
World Food Safety Day
Each year, June 7 marks World Food Safety Day, which was established by the United Nations General Assembly and is now facilitated by the World Health Organization (WHO) and the Food and Agriculture Organization of the United Nations (FAO) "to draw attention and inspire action to help prevent, detect and manage foodborne risks, contributing to food security, human health, economic prosperity, agriculture, market access, tourism and sustainable development."
Their efforts are laudable and should be celebrated. But as they note, "Food safety is a shared responsibility between governments, producers and consumers." Each of us has an important role to play in building upon on their hard work by putting food safety best practices into action. Every day. Every month. And throughout the year.
Improve Your Team's Food Safety Skills with Our eLearning Courses
Too often, employees from the frontline to management don't have the right skills to properly develop, implement and maintain these best practices in their facilities. To support your team's development and your ongoing commitment to food safety best practices, take a look at some of our most popular online courses, such as:
Food Safety Essentials – Support your frontline team with the knowledge and skills to ensure food safety.
HACCP Online – Give your team every tool they need to identify food safety hazards and prevent problems from reaching consumers.
Food Defense Coordinator Online – Food defense training for mitigating and preventing intentional adulteration.
Addressing the Critical Labor Shortage in Food Safety
"To ensure food safety, it is important that these positions are not only filled, but filled with the right expertise."
More and more operations have experienced a shortage of qualified labor in the past few years and many continue to experience it now. As a result, it is increasingly difficult to develop, implement and maintain best practices. To ensure food safety, it is important that these positions are not only filled, but filled with the right expertise.
Providing members of your frontline team with opportunities for growth and supporting them with training can help in the long-term. But in the short-term, our Assign an Expert program may be the solution you need today. By the hour or for weeks at a time, our experts are available to fill your most important food safety positions, stepping into large complex operations to oversee management, closures, and high-risk issues. In fact, we can provide technical experts that include a Sanitarian, Food Safety Manager, QA Manager, Integrated Pest Manager, Baking Consultant or Food Labeling Consultant. And we can get them on your team quickly, on-site or virtually.
Our Commitment to Our Customers
For more than 100 years, we have partnered with our customers to bring the enjoyment of safe, high-quality food to consumers everywhere. Our global team of food safety and quality professionals has grown to service more than 120 countries and is committed to helping food and beverage supply chain companies to apply the highest standards of integrity.
Working together, we're proud to celebrate food safety and put best practices into action each day, month and throughout the year. By doing that, we can help ensure that each of those 79,000 meals is safe to enjoy.
Should you have any questions or need additional support, please contact us at info@aibinternational.com.