Protecting your facility from the threat of intentional contamination, adulteration, and tampering is crucial to ensuring your customers and employees aren't harmed and your brand reputation stays intact. Yet, here's where the challenge arises: Maintaining a high standard of food defense requires a company-wide effort — with different responsibilities falling on managers, supervisors, and frontline employees alike.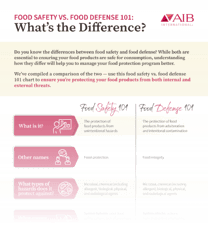 Free Infographic
How can you reinforce food defense via policies, training, and employee engagement among these various roles?
First, Why Is Food Defense Important?
Food defense is, first and foremost, both an FDA (Food Safety Modernization Act) and GFSI scheme requirement (such as BRC, SQF, and FSSC 22000) that food production companies must comply with.
But more importantly, protecting your facility against crime and terrorism means you can meet consumers' expectations that the food products available on shelves are safe to eat. Whether it be disgruntled employees, terrorists, or bad players driven by financial gain conducting malicious acts, the resulting recalls or threats to public health not only erode consumer trust but also cause long-term damage to your brand reputation and bottom line.
How to Reinforce Food Defense Among Managers
What they do
Facility managers are responsible for developing, implementing, and maintaining robust food defense programs. As the overseer of any food defense program, they must do the following:
Conduct regular vulnerability assessments
Compile mitigation strategies into actionable plans
Implement monitoring processes
Establish a multidisciplinary food defense team
What they need
To make sure managers are prepared to handle food defense threats, they need to receive proper training in food defense program management. A program like AIB's Food Defense Coordinator Seminar can help provide managers with actionable strategies and the latest regulations to help them better reinforce food defense in their facilities. The course also teaches managers how to provide relevant food defense training to other employees. Participants who pass the post-course exam can also receive an AIB International Food Defense Coordinator Certification.
How to Reinforce Food Defense Among Supervisors
What they do
Supervisors are tasked with not only ensuring food defense programs run smoothly but also remaining vigilant for food defense risks among employees.
What they need
To reinforce food defense among supervisors, they need to be trained in measures spanning policy, employee management, and physical security, such as how to do the following:
Conduct background checks on all employees and contractors
Train frontline staff on food defense and security awareness
Address employees' needs and well-being
Manage records for material and product traceability
Maintain the facility's physical security by performing periodic checks on alarms, cameras, entry and exit points, and other control systems
One way to equip supervisors with these skills is with AIB's FSPCA Intentional Adulteration Conducting Vulnerability Assessments course. The training teaches supervisors how to tackle these demands as well as how to detect vulnerabilities, analyze vulnerability assessment data, and identify characteristics of an insider attacker.
How to Reinforce Food Defense Among Frontline Employees
What they do
As the ones typically alerting supervisors to tampering or adulteration, frontline employees are the critical first line of defense against malicious threats. As a result, they need to be trained in the following:
Knowing the health risks caused by intentional contamination
Understanding the company's food defense plan
Learning how to detect, report, and record suspicious activity
What they need
The key to helping frontline workers recognize their responsibility in ensuring the integrity of the food supply is by teaching them how food defense fits in the big picture of food protection. AIB's Food Safety Essentials course trains frontline employees in food defense, contamination, and other key topics so that they can stay vigilant in all areas of food safety.
Food Defense Starts With Your Team
Your company's food defense program is only as strong as the employees you have trained to implement and uphold it. These managers, supervisors, and frontline employees must not only understand the dangers of adulteration but also reinforce it in their everyday work.
The best food defense is one that's highly personalized to your facility's needs. If you're looking for a partner to help you build a tailored program, learn more about AIB's private training.