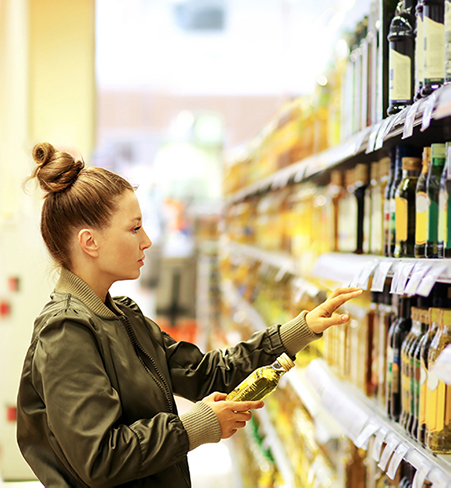 The resources below will provide you with support for developing your Food Fraud Plan and then also help answer "What is Food Fraud?," "How Do I Assess Whether My Supply Chain is at Risk?," and "How Do I Mitigate My Risk?"
Food Fraud Resources – Our team of Food Safety Professionals can support the development, review and improvement of your Food Fraud Plan.
1. What is Food Fraud?
Food Fraud is a collective term used to encompass the deliberate and intentional substitution, addition, tampering, or misrepresentation of food, food ingredients, or food packaging; or, false or misleading statements made about a product, for economic gain. It is important to understand that food fraud is a deliberate act. Unlike intentional adulteration due to terrorism, the point of food fraud is economic gain, rather than wide-spread harm. It can include product dilution, substitution, concealment, mislabeling, grey market production/theft/diversion, unapproved enhancements and counterfeiting.
2. How Do I Assess Whether My Supply Chain is at Risk?
The National Center for Food Protection and Defense defines the top ten most fraudulent foods as follows: Alcoholic beverages; Oils and fats; Meat and meat products; Honey; Spices; Grains and grain products; Coffee and tea; Fish and seafood; Dairy; and, Produce.
Separately, Decernis' Food Fraud Database defines their top ten most fraudulent foods as follows: Olive oil; Milk; Honey; Saffron; Orange juice; Coffee; Apple juice (tie); Grape wine (tie); Maple syrup (tie); and, Vanilla extract.
Many of these ingredients are known historically to be at an increased risk for fraud. As an example, the gap between production and consumption of olive oil (specifically extra virgin olive oil) and honey have been studied. While the global industry only currently producing a certain amount of these items, the world consumes more of these items than what is produced. Thus, they are being fraudulently diluted, substituted, concealed, mislabeled or otherwise. In some form, fraud has a higher risk of occurring if you are receiving or using these ingredients. When conducting a vulnerability assessment to determine the risk of fraud in your supply chain, understanding historical risk may be something to consider as a risk factor within the assessment.
Generally, an assessment begins by understanding what ingredients are used at a facility to make your products. You can then determine the risk factors used in determining vulnerabilities or risk of fraud for the ingredients. Examples of risk factors could include a history of food fraud, history or relationship with a supplier, and complication of the supply chain, such as how many points along the supply chain the ingredient goes through until it reaches your facility. Economic factors can also make fraudulent activity more attractive, and could include such as ecological factors as drought, pestilence, and the nature of the ingredient, such as a powdered ingredient vs. a solid item like an apple.
Once these factors are decided on, the next step would be to develop a risk rating system. These ratings could be Low, Medium and High, or Minor, Major and Critical, while defining what this would mean for each risk factor identified.
Next would be to conduct an assessment using the risk factors and risk rating system established, while documenting your results.
3. How Do I Mitigate My Risk?
If you identify risk of potentially fraudulent activity for an ingredient during your vulnerability assessment, then you are required to develop and implement mitigation strategies to significantly minimize or prevent the potential fraudulent activity. If you identify economically motivated adulteration (food fraud with a food safety issue), then you would develop or implement preventive controls. For GFSI requirements, if you identify significant risk, you are required to develop and implement mitigation strategies. Some common strategies include supplier audits, sampling and testing, final product testing and approved supplier programs.
Once you have completed your assessment and developed mitigation strategies to address identified risks, there is still work to do. You'll need to review your program on a regular basis, understanding that fraudsters will always look for opportunities. You will need to review and assess to determine if there is new information that may identify an increased risk of fraud. This process is called horizon scanning. An example of increasing risk of fraud could be the situation we are in with COVID-19. As you scan the horizon, are you prepared for the next pandemic or other potential disruption to your supply chain?
Easy Steps for Staying Safe at Home
As a co-presenter, we were joined by Britanny Saunier from The Partnership for Food Safety Education as a co-presenter. She offered key steps you can recommend to help keep your employees safe when they're at home during COVID-19, including their Coronavirus Resource Page.