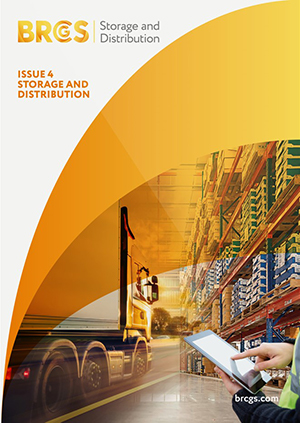 This standard is flexible and has multiple applications, as it can be applied at any point in the distribution chain from primary production to retail, including rail, road, air and ship. It can also be applied at any point in the supply chain, from farm to processor, primary processor to manufacturer, manufacturer to off-site warehousing, warehousing to retail depots and retail depots to store. Further, the flexibility of the standard extends to product type as well, covering food, packaging and consumer products. To meet the needs of the evolving supply chain, it has also been recently upgraded.
Watch the Webinar Download the Slides Seminar Registration
During their Jan. 28 webinar, Siarl Siviyer Dixon, Certification Manager, AIB International and Jessica Burke, Senior Manager, Technical Services, BRCGS, offered an update on upgrades to the standard and what it means for customers.
Why Was the Standard Upgraded?
There were six primary drivers for upgrading the standard:
As you may know, GFSI issued new benchmarking requirements earlier this year. As a result, there were some areas that needed to be strengthened in the standard to meet those requirements.
Another key driver was to use the opportunity to set industry best practice, which is always our aim. Product safety culture is a good example of an element that was added to set best practice.
In addition, by monitoring the industry and evaluating the changing role of the logistics sector, key activities have been identified that were not covered in the previous version. They have been upgraded here, with e-commerce being an example.
Continuous improvement has always been the backbone of the BRCGS Standards and S&D is no different. There is also now an increased emphasis on continuous improvement by enhancing root cause analysis, improving internal audits, and incorporating any position statements and other learnings from Issue 3.
Clarity has been added to the requirements of certain sections, while new sections were added to incorporate new transport flows.
And finally, new audit techniques have been incorporated to meet the needs of the changing landscape.
What Was Changed in Issue 4?
There were a number of changes made to the standard, including the addition of the blended audit option, the color coding of the requirements, and the inclusion of mandatory unannounced audits.
Blended Audits – Though the blended audit is a by-product of the pandemic, this model is here to stay. As a first step, the remote audit utilizes ICT (Information Communication Technology) to gather, store, retrieve, process, analyse and transmit information. An onsite audit then takes place within 28 days. This process can improve audit quality by maximizing the effectiveness of the time spent on site, while also reducing costs associated with an auditor being onsite for multiple days.
Color Coding – Another improvement to the standard is the application of color coding to the requirements. As with other BRCGS standards, the requirements of the S&D standard are now color coded to provide guidance based on the audit activities for each requirement. For example, some requirements will be assessed through an audit of records and documents, while others will be assessed through facilities and good handling practices, while still others will be a combination of both approaches.
Mandatory Unannounced Audits – The last change to protocol is the introduction of at least one mandatory unannounced audit every three years. Traditionally, unannounced audits have provided companies with an opportunity to demonstrate their confidence in their systems and procedures, to the extent that they are willing to subject these to unannounced scrutiny. Over time, the number of specifiers asking for unannounced audits has increased as it provides them with greater confidence in their sites and suppliers systems and overall culture. Recognizing the importance of unannounced audits, GFSI has introduced this requirement to the standard.
Additionally, there are 10 main changes to the requirements themselves in areas like pest management, allergen management, and internal audits. For more on each of these changes and the reasons for them, along with information on additional voluntary modules, please see the webinar, where these details were discussed further.
To learn more, you can also register for the March 9-10 "Introduction to the BRCGS Global Standard for Storage and Distribution Issue 4" virtual seminar. If you have additional questions or would like more information about BRCGS Storage Issue 4, please email Siarl directly at sdixon@aibinternational.com.