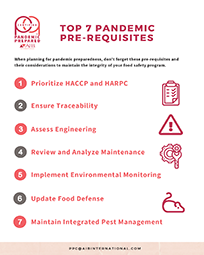 Did they negatively impact food safety by forgetting to review existing pre-requisite programs?
It's no surprise that in response to the pandemic, many operations implemented new food safety and occupational safety protocols. But, in their pandemic planning, did they negatively impact food safety by forgetting to review existing pre-requisite programs?
As part of our Pandemic Prepared Certification, there are numerous pre-requisites that require review, but these seven stand out as especially important:
HACCP and Hazard Analysis and Risk-based Preventive Controls (HARPC)
Traceability
Engineering
Maintenance
Environmental Monitoring
Food Defense
Integrated Pest Management
For each of these seven priorities, there are key considerations that should be incorporated into your pandemic planning and pre-requisite review.
We've highlighted these considerations below:
1. Prioritize HACCP/HARPC
HACCP/HARPC should be prioritized for review on your pandemic preparedness list, including:
Alternate suppliers for ingredients may have introduced different packaging materials, such as glass containers or bag fasteners, that may represent a risk.
Allergens that were not previously present may now be a concern.
Introduction of new PPE into production environments should be assessed and effectively managed to prevent foreign material hazards into product flows.
Absenteeism may require more employees to be trained for key monitoring and verification activities.
Should you discover any gaps while reviewing these HACCP and HARPC considerations, they must be closed to maintain food safety.
2. Ensure Traceability
There's no doubt that employees are under stress and may currently be working in unfamiliar positions, so mistakes will be made. As a result, you must continue to rely on the accuracy of traceability records and your ability to recall mistakes to protect the public.
This means it is important to ensure that everyone is trained and aware of their responsibilities for traceability records. The recall team, including alternates that will cover in the absence of primary members, must understand the traceability plan and have drilled on its use to respond swiftly and effectively when needed.
3. Assess Engineering
Engineering plays a key role in the design of employee entrance screening points to maintain health. An assessment and provision for accessibility to touch-free handwash stations in key areas of the facility is critical.
The design and installation of appropriate distancing barriers where needed must also follow food safety protocols for the materials used. Doing so will help prevent breakage hazards and allow for proper sanitation of those barriers.
4. Review and Analyze Maintenance
Maintenance procedures need to be reviewed and analyzed for adjustments to preventive maintenance schedules impacted by extended runs to meet customer needs and consumer demand, including:
Review how extended shutdown periods and startup of operations can impact maintenance department responses.
Review and adjust HVAC operations for optimal temperature, humidity, and air exchange cycles to help control the environmental air and minimize potential for the transmission of the virus, while ensuring maximum efficiency.
5. Implement Environmental Monitoring
Environmental monitoring and subsequent sanitation revisions are needed due to changes in traffic patterns within the facility designed to facilitate social distancing.
These new patterns may introduce pathogens into processing and packaging environments that were not previously identified before the changes. Mitigation responses to positive pathogen results within these areas must be implemented.
6. Update Food Defense
Food Defense protocols will likely change to accommodate premises entry and exit. A vulnerability assessment is warranted due to changes in shift hours, work position assignments, and use of temporary and new employees.
Refresher training and the additional control measures implemented will need to be communicated to all site personnel.
7. Maintain IPM
Finally, some operations have been discontinuing outside Integrated Pest Management services. Before you consider also doing so, we encourage you to first look at the risks involved.
If limiting entry to these service providers, facilities must then be willing to bring effective efforts in-house to prevent pest activity in the facility.
How can you manage pest control during the pandemic?
How can you manage pest control during the pandemic? It's straightforward: Review your programs and make adjustments that keep food protection front and center.
In your commitment to provide for the continued health of the workforce, you must not lose sight of how these efforts impact the pre-requisite programs that are in place to maintain food safety. It is imperative to look at the big picture and integrate these measures to promote both food safety and the health of everyone in the work environment.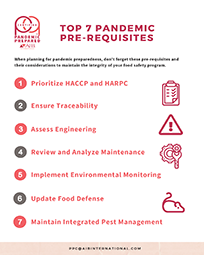 Start Today
You can get started in the development of your preparedness plan by signing up for our free Preparedness Review email series, registering for the on-demand Pandemic Prepared Certification Standard Introduction, Interpretation, Implementation online course, or learn more by emailing us at ppc@aibinternational.com.
About the Author

Peg Ray is a Technical Services Manager at AIB International, where she supports food and beverage companies on emerging food safety and integrity issues. Peg has over 40 years of experience in the food industry and was one of the first women in Food Science at the Michigan State University. Peg is an in-demand expert on pandemic preparedness and good manufacturing practices (GMPs).